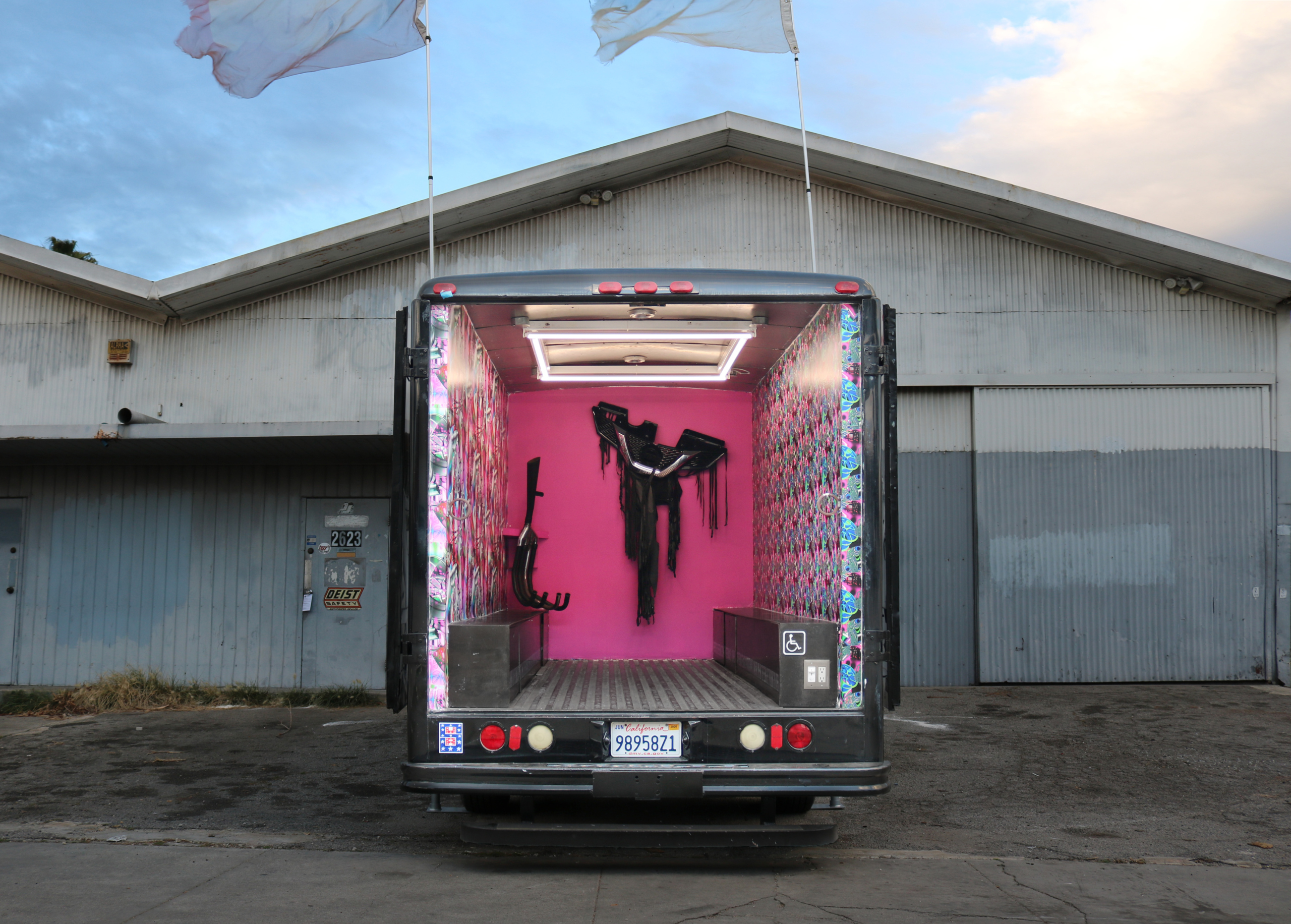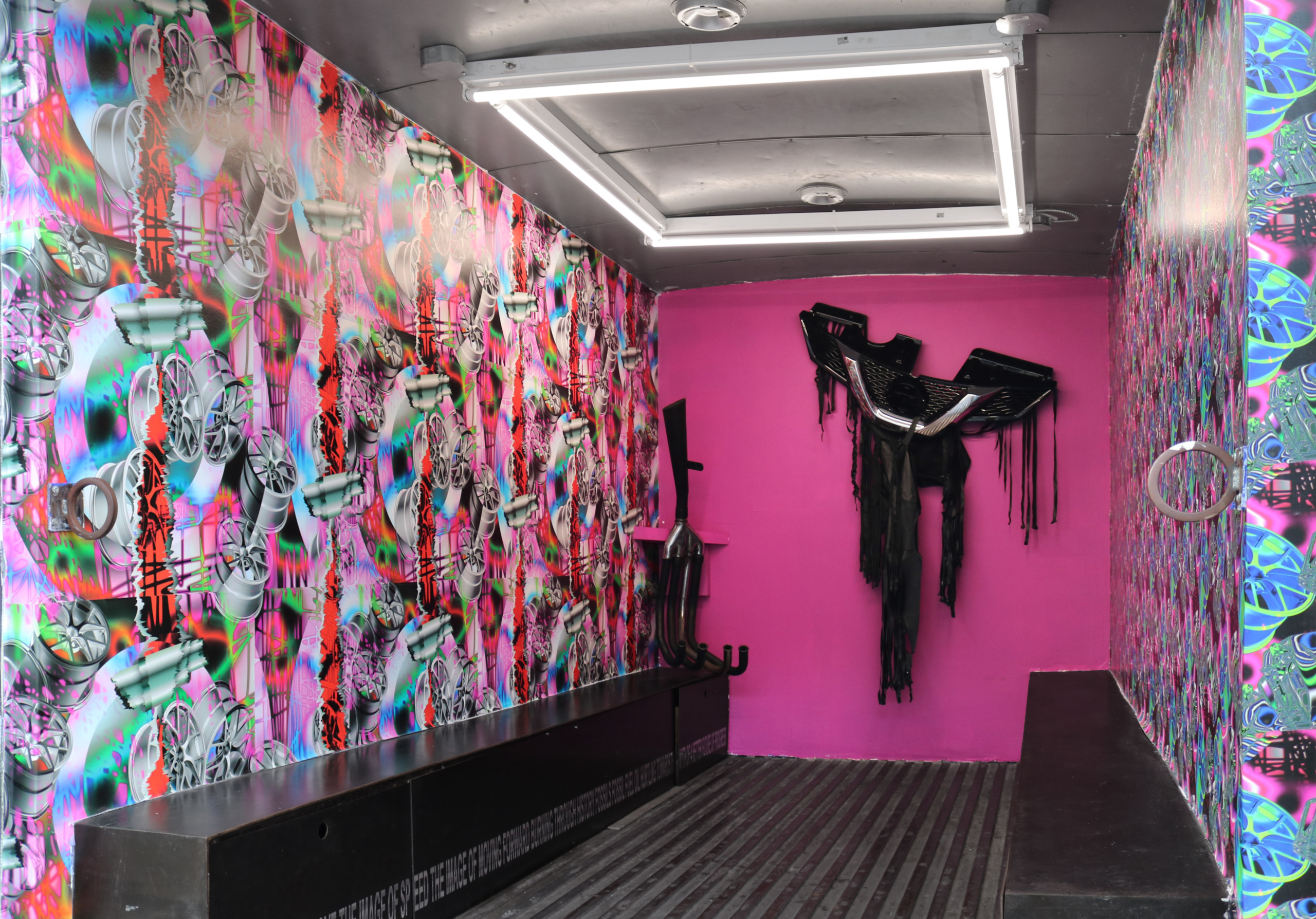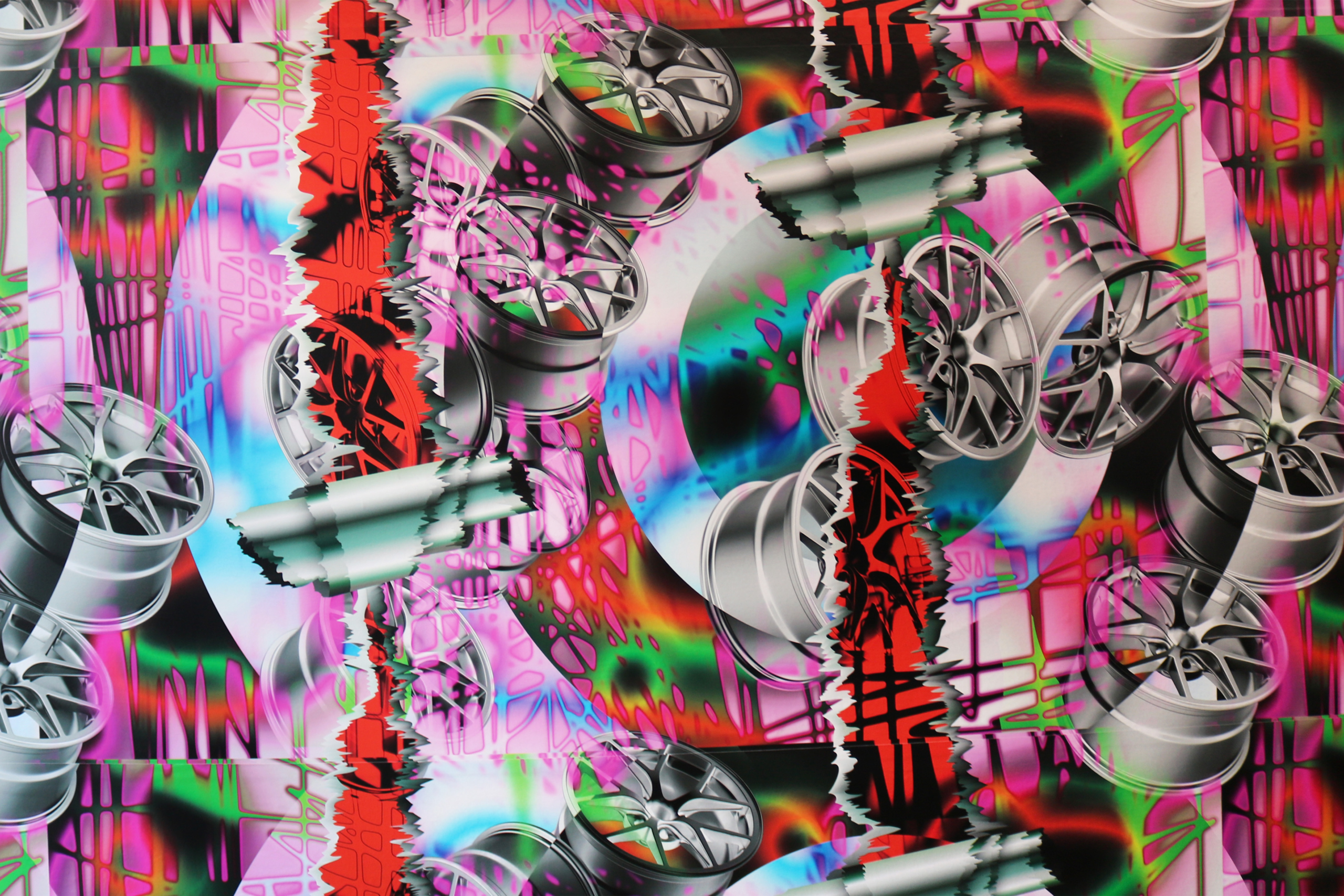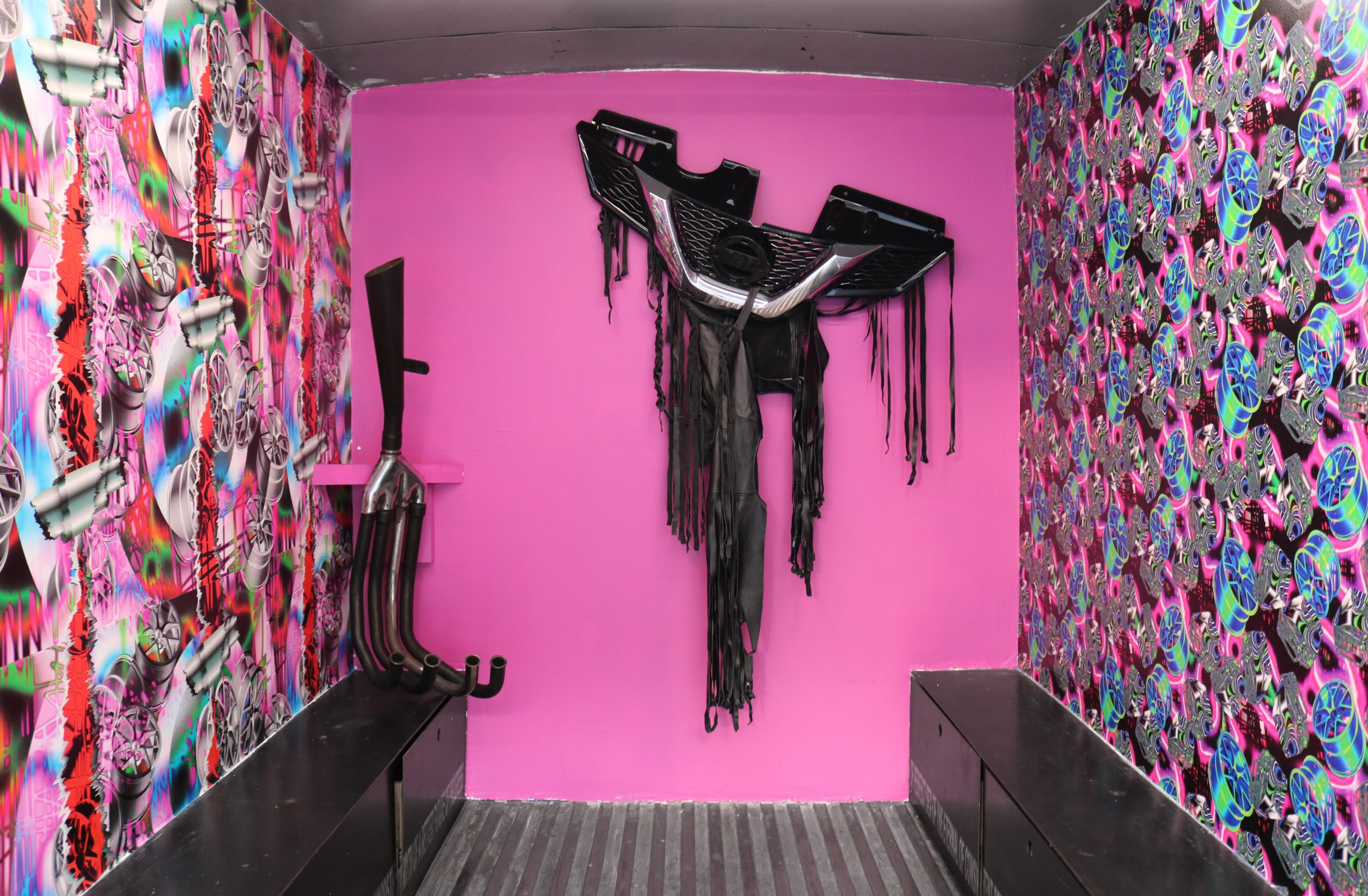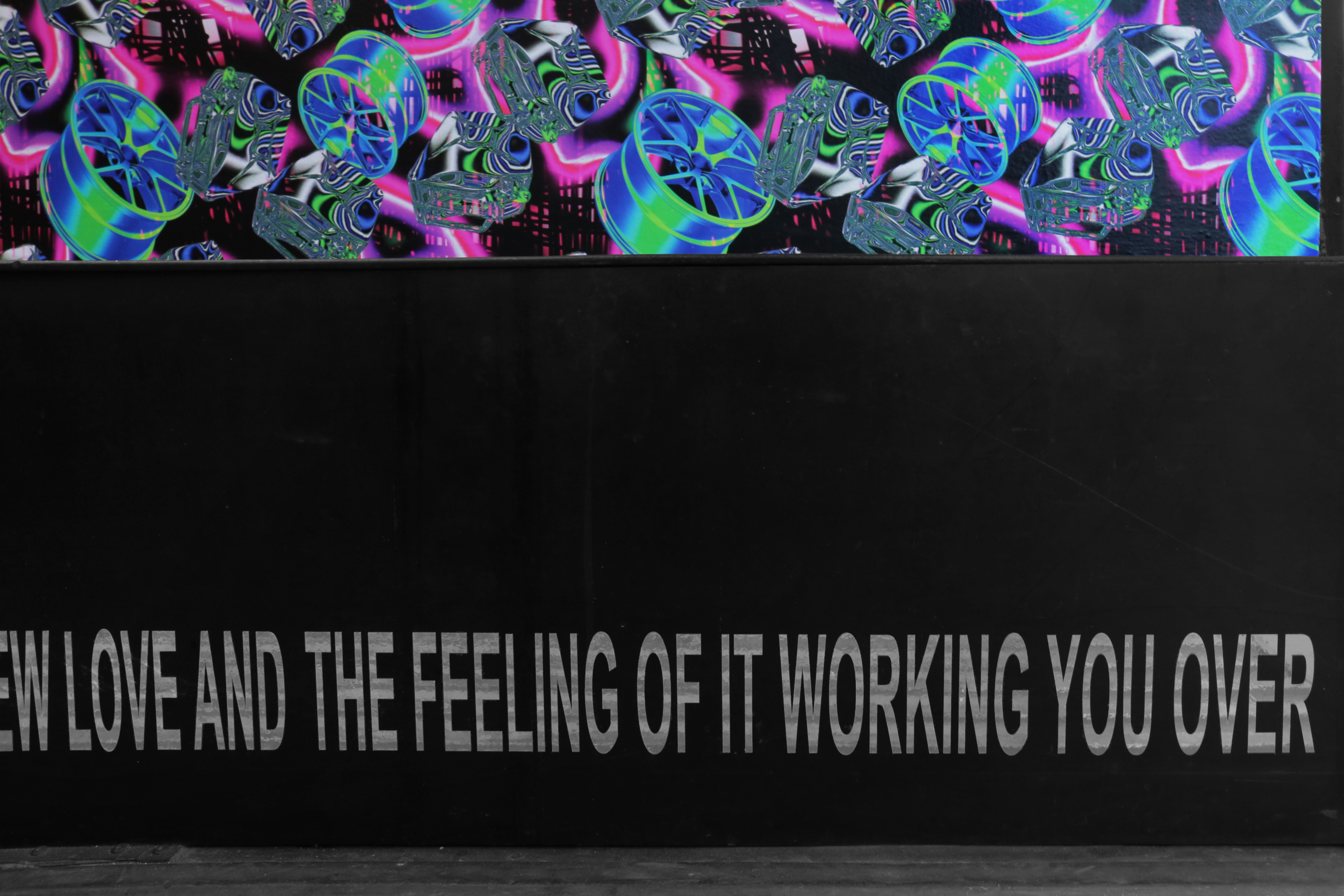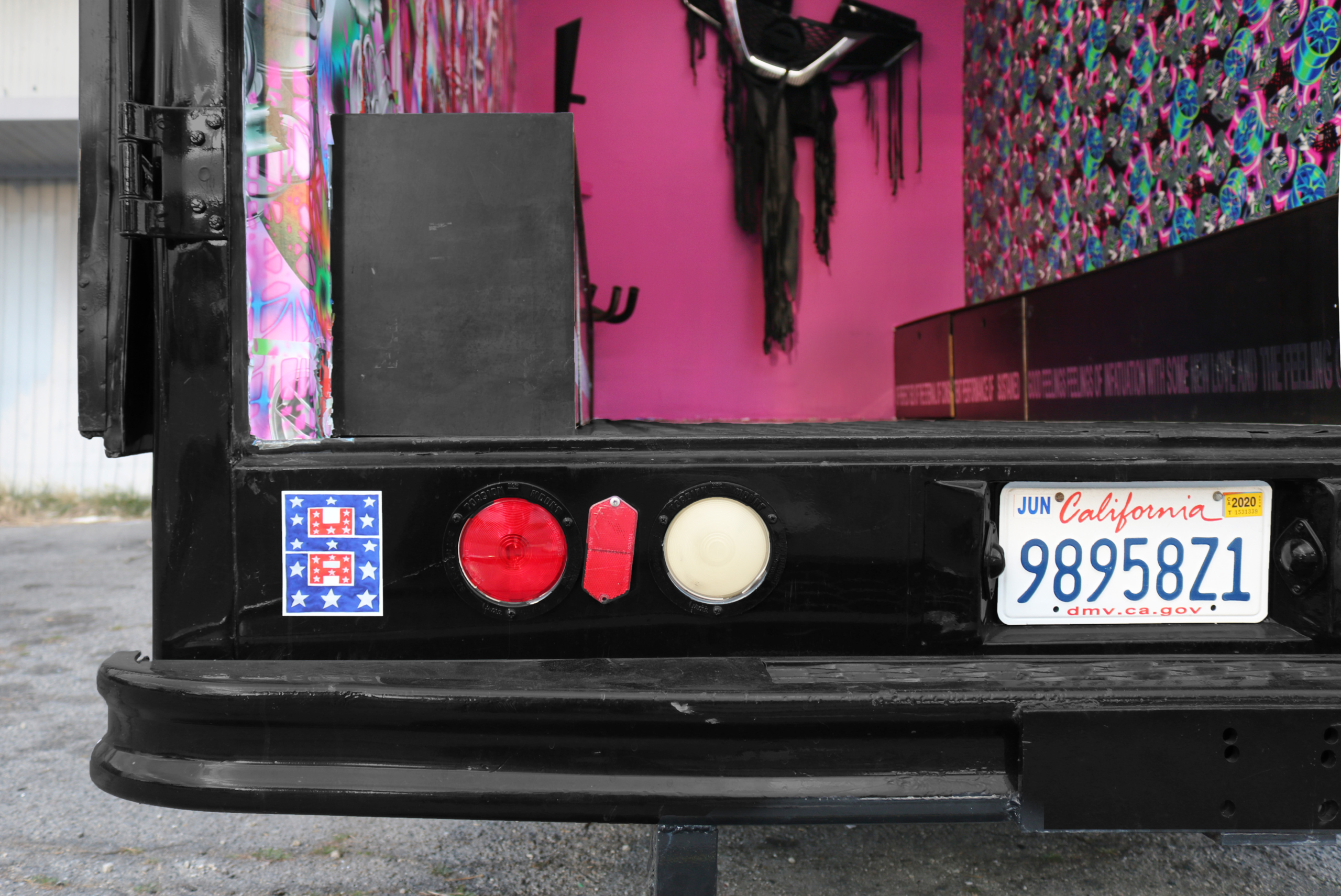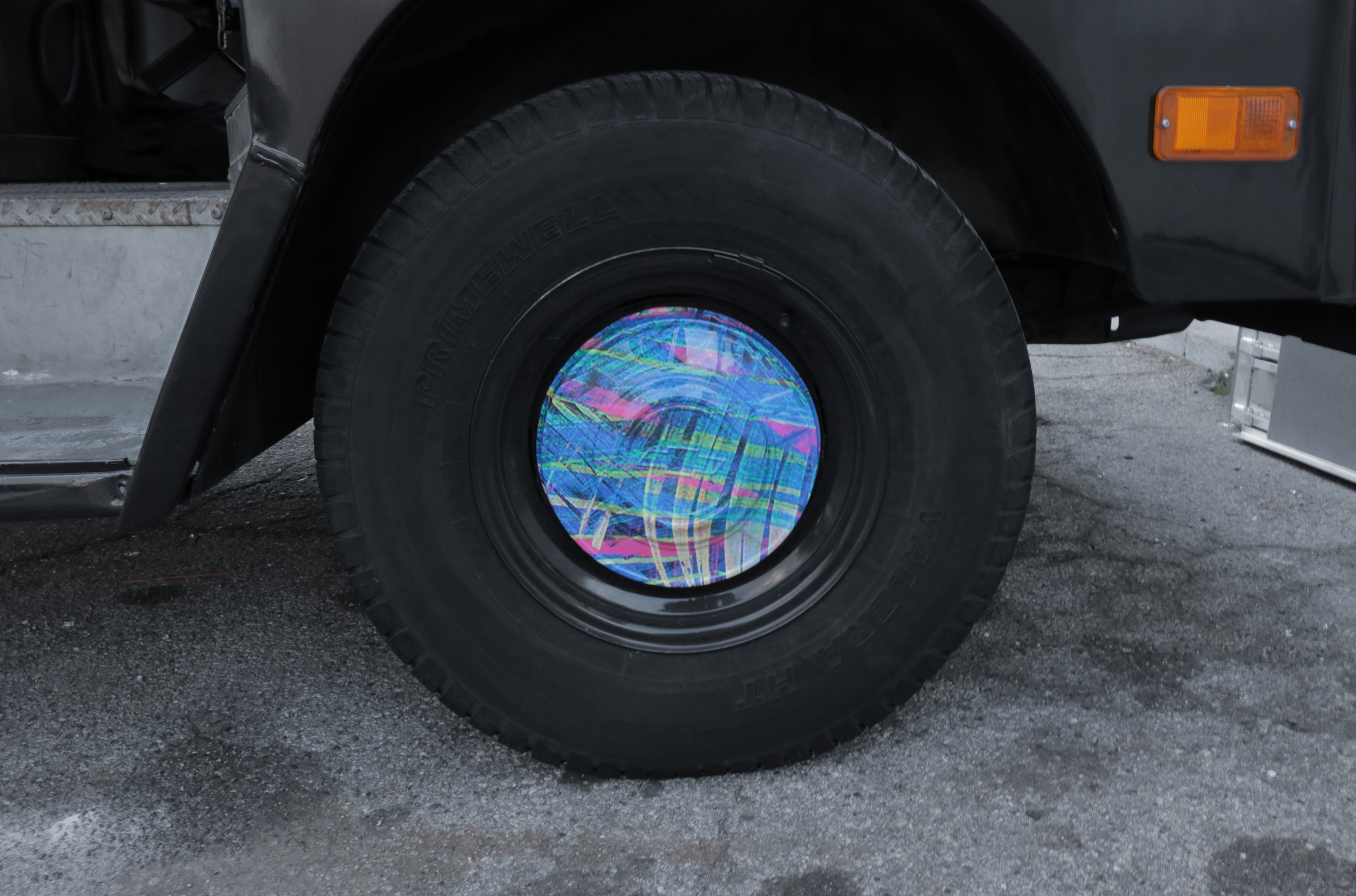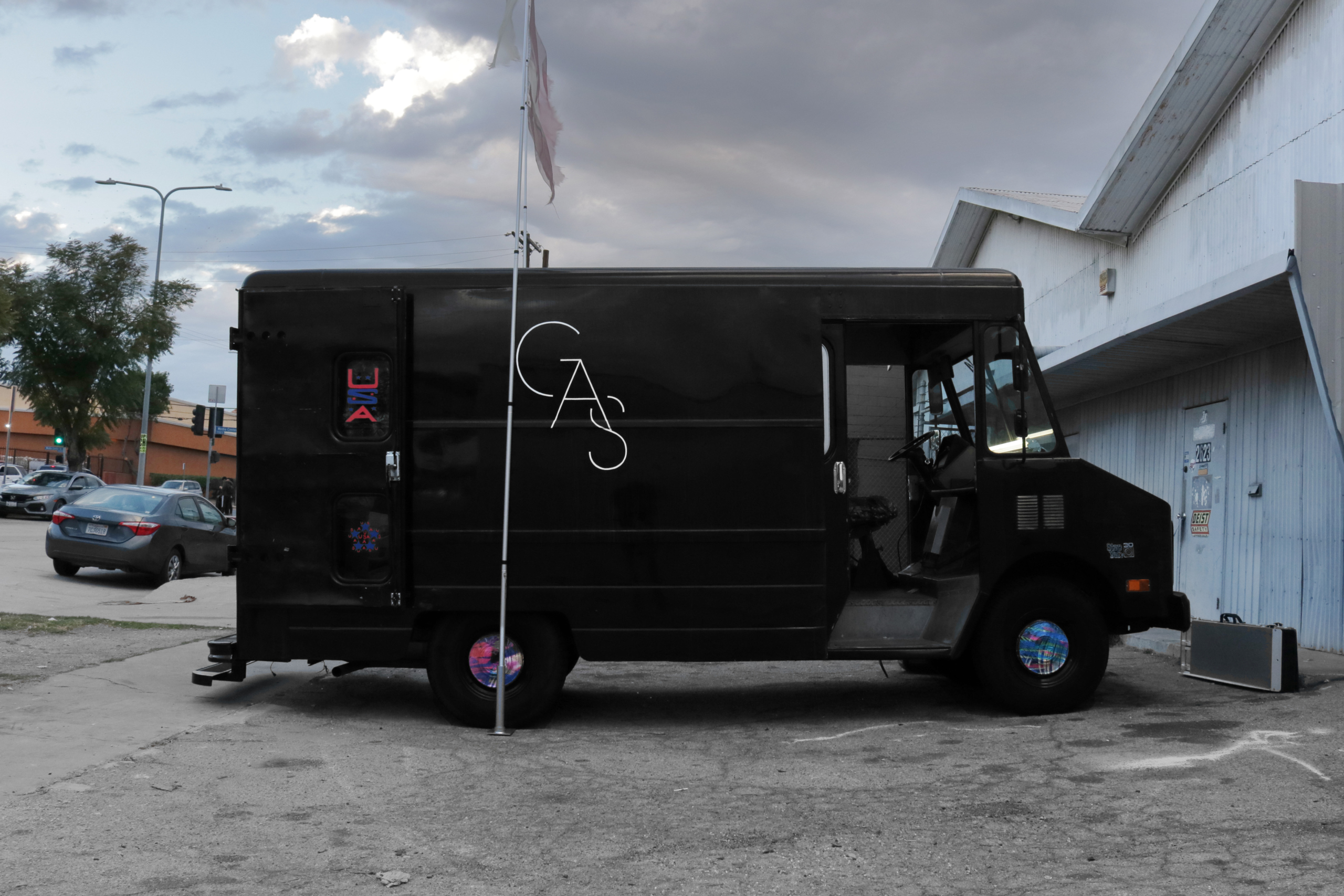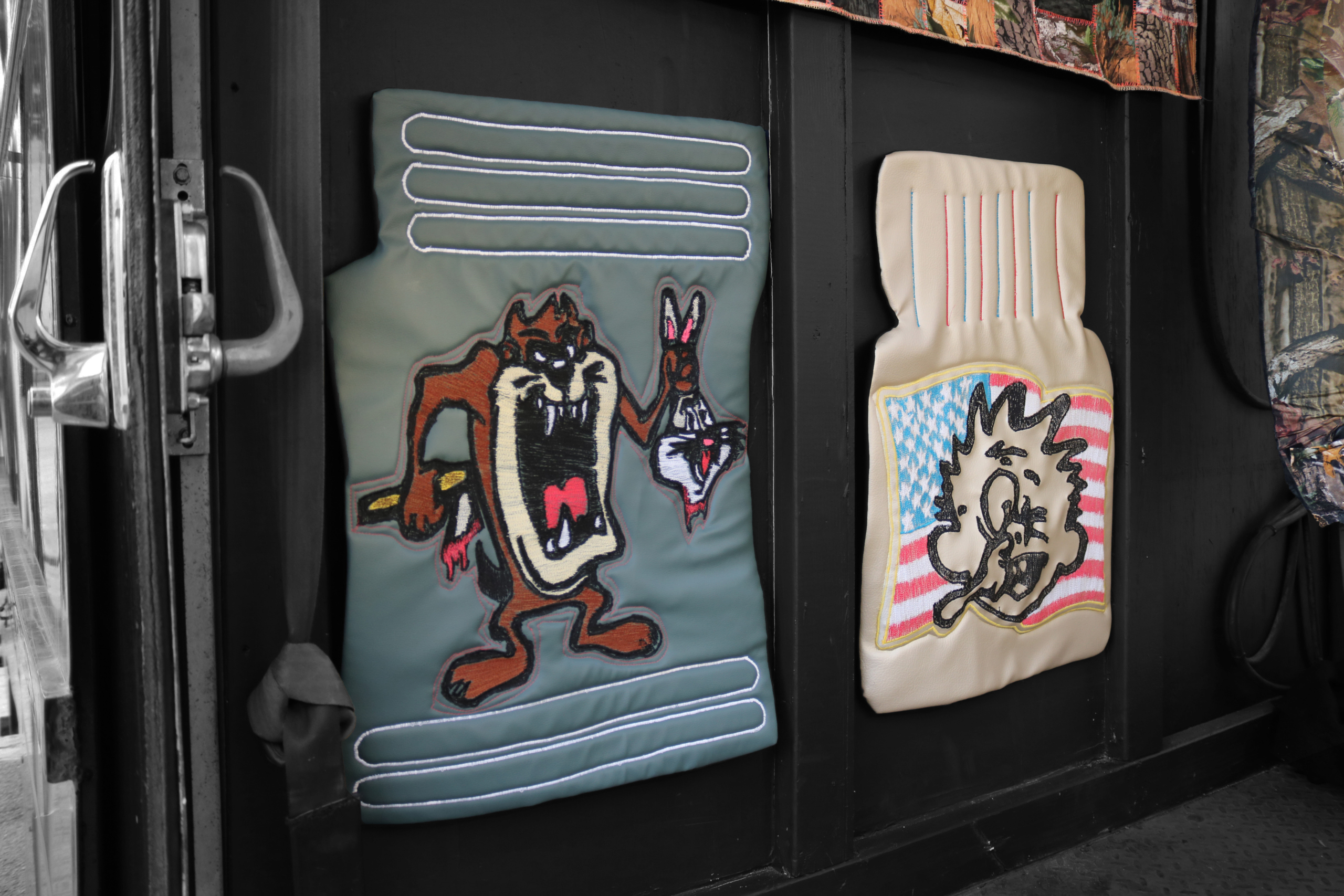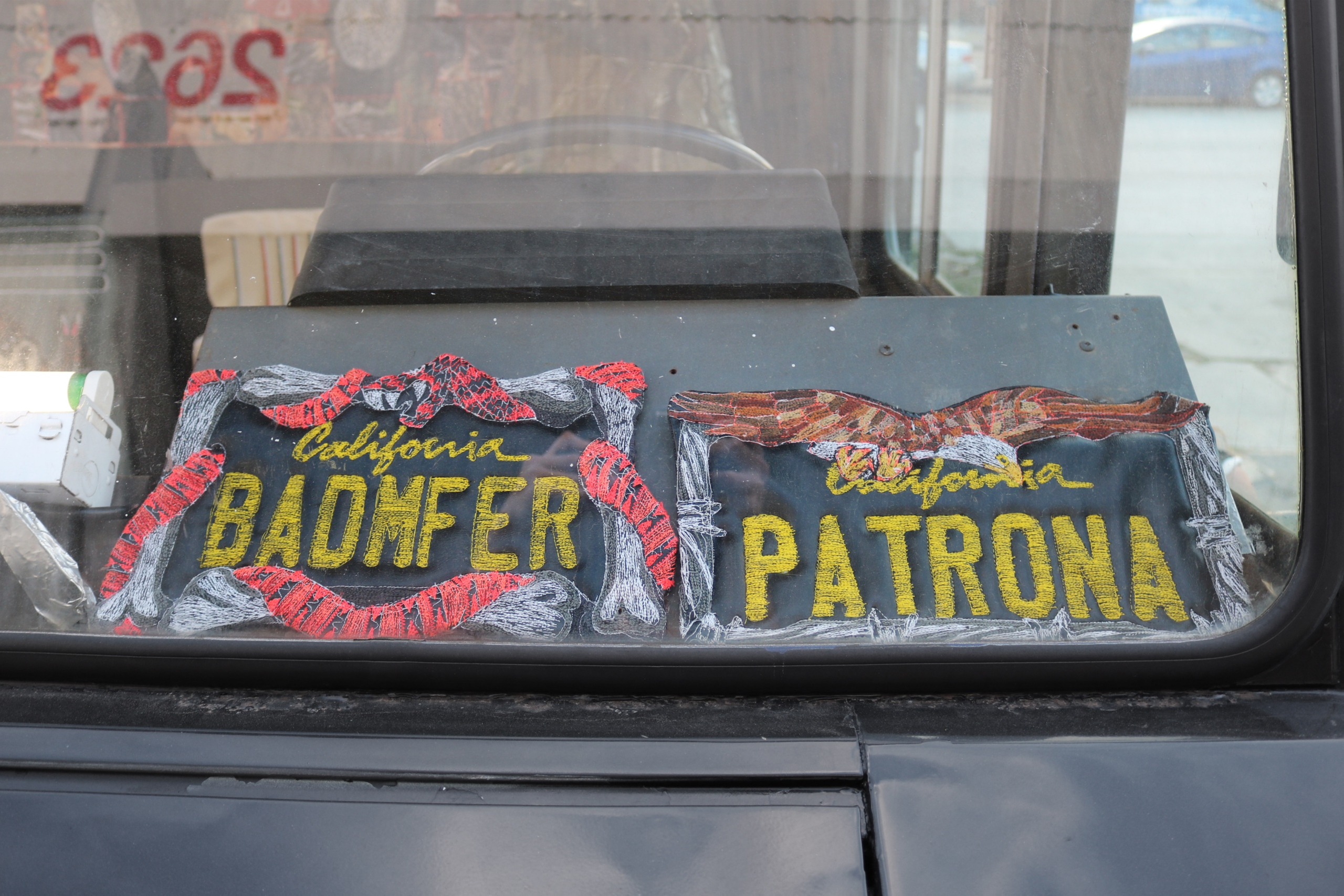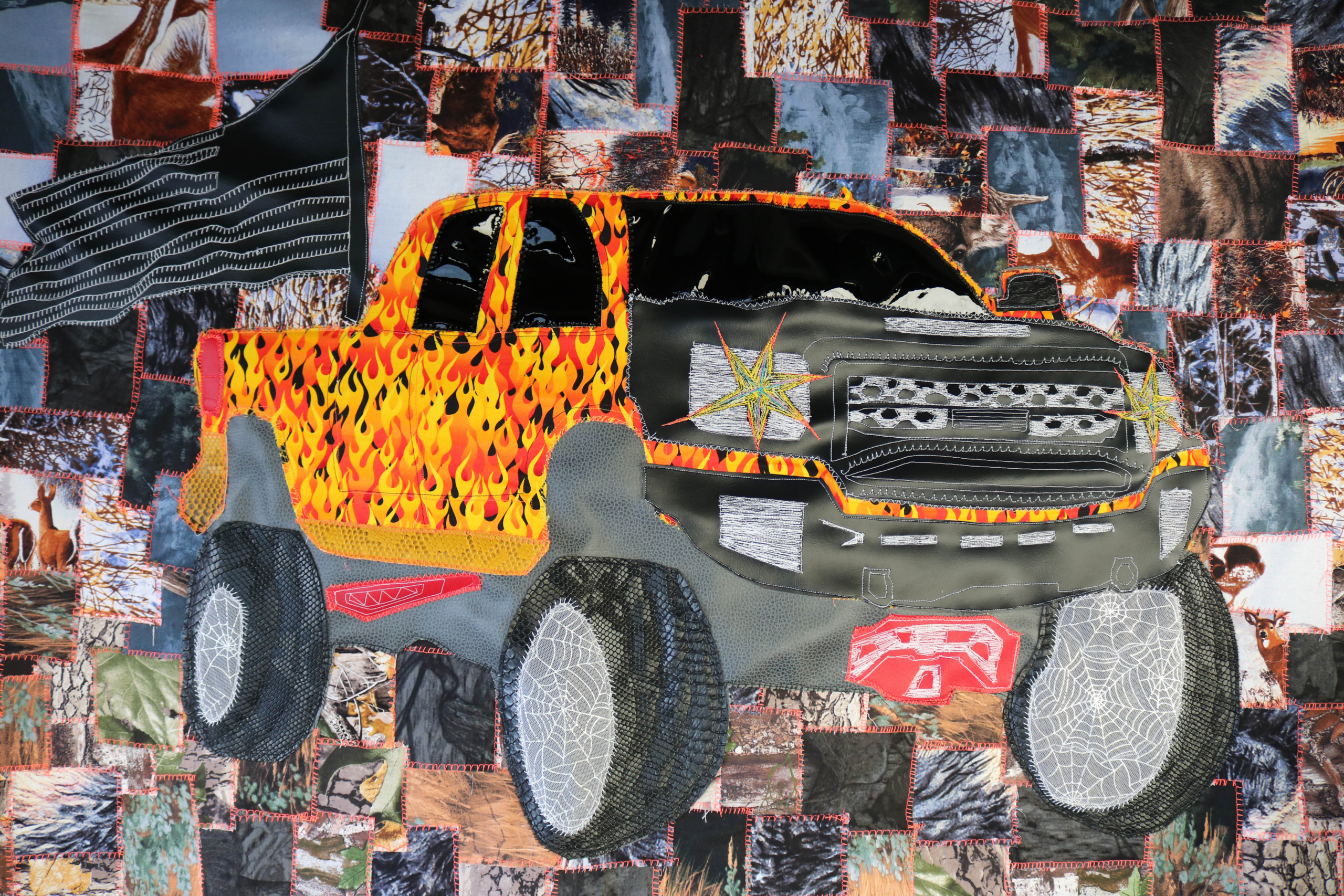 Custom
ARTISTS
Nikita Gale, Dahn Gim, Spencer Longo, Erick Medel, Natani Notah, Louise Rosendal, Tailgate Projects
PRESS RELEASE
Custom is a group exhibition that considers the intricacies of identity as expressed through and in American car culture. Indicative of petro-capitalism's enduring influence, in the United States the car is a symbol of freedom, success, individualism, and mobility. But the fantasies projected onto this object are deeply intertwined with issues related to gender, class, cultural assimilation, consumerism, oil dependence, affect, and isolation. The works in Custom contemplate subjectivity through the cultural, political, and technological space of the car.
Erick Medel's new installation Homeland in the front driving cabin of Gas gallery is comprised of hanging quilts, truck floor mats, and upholstery that draws imagery from the white supremacist narratives present in Looney Tunes cartoons via characters such as Wile E. Coyote and Elmer Fudd, mixed with camouflage fabric. These images and patterns are popular on car decals and accessories. Assuming the role of a cultural anthropologist, Medel investigates how these images circulate in popular culture, the assumptions about race and gender that underpin them, and their significance in various contexts, particularly within the Latinx community. The title Homeland reflects Medel's ongoing negotiation with material consumption and "American-ness" as informed by his own experience as a Mexican immigrant to the United States.
Spencer Longo also examines car decals as a distinct form of US-centric vernacular. Longo's stickers in Gas's rear windows derive from his USA series of drawings that feature wobbly, imperfect and at times jumbled renditions of stars, stripes, and the USA logotype. The designs are intended to look like nationalist graphics found on RVs and trucks, but rendered flat and hollow. By deflating the bravado and polish of this style of iconography, Longo disturbs the cultural habits that bolster patriotism.
Sexuality, gender, and identity are central to Tailgate Projects, a customized truck that is also an art platform run by the artist Kale Roberts in Tampa, Florida. Working collaboratively with a rotating group of artists, Roberts has outfitted every surface of their vehicle with artwork, and they use it to host tailgate parties, performances, and other happenings. They conceive of the project as a "truck in drag" that seeks to queer the often conservative, male-dominated, racist truck culture found in the South. For Custom, Gas presents flags by Dana Hoey titled Fighters (2016) originally shown at Tailgate Projects and hydro-dipped rims by Tailgate Projects collaborator Michael J. Bauman. The rims are titled Rolling Blind and they reference a style of palm frond camouflage found in the South, but instead use day-glow tones of pink, purple and blue that peacock rather than mask, drawing attention to the theatrical absurdity of hyper-masculinity within Southern car culture.
Natani Notah also uses customizing as a means to upset dominant narratives. Her sculpture Don't Bump Her (2018) is from the IMPACT series, which looks at the influence of Western colonization through metaphors of collision and resulting fragmentation. Using detritus from car wrecks, such as bumpers and broken mirrors, she adds leather fringe traditionally found in Diné (Navajo) craft. This addition is meant as a counterpoint to the car's association with the oil industry, which has propelled efforts to exploit and displace Indigenous communities.
Dahn Gim's Names I Had You Call Me: Catherine (2018) is part of a larger series of sculptures that meticulously deconstruct and re-skin found car mufflers with soft leather to resemble the shape, color, and texture of human and animal limbs and organs. Gim emigrated from South Korea to Canada and then to the United States, and as a result is interested in conversations regarding adaptation and belonging. Her sculptures' commingling of the strange and the familiar echoes the process of volleying between multiple cultures, languages, and surroundings.
Other works in the show respond to the close ties between automobiles and spectacle. Louise Rosendal creates bright and colorful wallpaper for the interior of Gas gallery in which vibrant swaths of neon color and images of chrome car rims are interspersed. The designs are meant to replicate the rush, speed, and sensuousness of slick computer graphics used in auto industry designs and marketing, dramatizing the fetishistic appeal that feeds the cultural imaginary surrounding cars.
Nikita Gale's text, which originally derived from the 2016 exhibition LOW MAINTENANCE: i only believe in horsepower now, creeps along the interior of the Gas truck. The earlier project, which encompassed writing, a video installation, and sculptures, explored the car as a site fed by technological innovation, fossil fuel dependence, and the concept of the human as cyborg, in sync with the machine. Like Gale's other bodies of work concerning the guitar or the police barricade, this car project ruminates on the intentions, projections, and behaviors that design and shape cultural objects. The text reads:
YOU LEARNED TO LOVE THE IMAGE OF SPEED THE IMAGE OF MOVING FORWARD BURNING THROUGH HISTORY FOSSILS FOSSIL FUEL OIL HURTLING TOWARDS THE MYTH OF A BETTER FUTURE OF PROGRESS OF PERFECT SEX OF THE ETERNAL OF CONSISTENT PERFORMANCE OF SUSTAINED GOOD FEELINGS FEELINGS OF INFATUATION WITH SOME NEW LOVE AND THE FEELING OF IT WORKING YOU OVER
Artist Biographies
Michael J. Bauman (b. 1988, Hollywood, Florida) As a social engagement artist, Michael Bauman explores notions of masculinity, failure, and the absurd by creating a mythos of the cruel and illogical. His interdisciplinary practice is one of halogen-bright moments grounded within the everyday, a combination of sculpture, documented interventions, and still photography. Bauman received his MFA and BFA are from the University of South Florida. Bauman has had solo exhibitions at Centre Gallery, Tampa (2013); WarpHaus Gallery, Gainesville (2012) and has been included in group exhibitions at FATVillage, Fort Lauderdale (2019), Whitespace at the Mordes Collection, West Palm Beach (2018), Satellite Art Fair, Miami (2018), Bailey Contemporary Arts, Pompano Beach (2017), Gallery 501, Tampa (2015), the Box Gallery, Tampa (2014) and William and Nancy Oliver Gallery, Tampa (2013). michaeljbauman.com
Nikita Gale (b. 1983, Anchorage, Alaska) lives and works in Los Angeles. Gale uses ubiquitous consumer technologies as frameworks to consider how individuals potentially reproduce their relationships to objects within their relationships to psychic space and political, social, and economic systems. Gale has had solo exhibitions at Reyes Finn, Detroit (2019); 56 Henry, New York (2018); Atlanta Contemporary Art Center (2018); Artist Curated Projects, Los Angeles (2017); and PARMER, New York (2014), and has been included in group exhibitions at Matthew Marks Gallery, Los Angeles (2019); CUE Art Foundation, New York (2019); the Hammer Museum, Los Angeles (2018); Ceysson and Bénétière, Paris (2018); the Studio Museum, New York (2017); LUX, London (2017); LA><ART, Los Angeles (2016); and EFA Project Space, New York (2014). Gale has received the Rema Hort Mann Foundation Emerging Artist Grant (2017), the Toby Devan Lewis Fellowship, UCLA (2016), and a National Endowment for the Arts Southern Constellations Fellowship (2013), and has had residencies at the Atlanta Contemporary Art Center (2011–14) and the Center for Photography at Woodstock, New York (2011). Gale holds an MFA from the University of California, Los Angeles, and a BA from Yale University. nikitagale.com
Dahn Gim (b. 1989, Busan, South Korea) was raised in Toronto and now lives and works in Los Angeles and Seoul. With an experimental curiosity in a range of different media including video, sculpture, and performance, her work often subverts and confronts the feelings of vulnerability, discomfort, displacement, and isolation that arise from personal experiences. Gim has received fellowships from University of California Los Angeles and UC Institute and Research in the Arts (UCIRA), International Emerging Artists Award (Dubai) and Kala Art Institute Fellowship. After completing her MFA in Media Arts at UCLA, she has been exhibiting at both national and internationally venues such as Steve Turner Gallery, Los Angeles (2018); Los Angeles Municipal Art Gallery, Los Angeles (2016); Hammer Museum, Los Angeles; Currents New Media 2017: El Museo Cultural de Santa Fe, Santa Fe; Nuit Blanche: Art Souterrain 2017, Montreal; Post Territory Ujeongguk, Seoul; Dongdaemoon Design Plaza (DDP), Seoul; Somerset House; London, and TAG bxl, Brussels. Gim is also a founder of makingout.la; artistic director of FEMMEBIT festival. dahngim.com
Spencer Longo (b. 1986, Exeter, New Hampshire) lives and works in Los Angeles. His work has been shown in solo exhibitions at King's Leap, Brooklyn (2019); Jakob Kroon, Worthing, UK (2019); Garden, Los Angeles (2019); Brand New Gallery, Milan (2019); Levy.Delval, Brussels (2014); and Smart Objects, Los Angeles (2014), and as an artist in residence at TBWA\Chiat\Day, Los Angeles. He was a member of the artist collective JOGGING, which showed work together at Still House, New York, and on MOCA TV. His work has been included in group exhibitions at University Art Gallery, Cal Poly, San Luis Obispo, California (2019); Public Pool Gallery, Los Angeles (2019); LOYAL, Stockholm (2015); Future Gallery, Berlin (2015); Galerie Chez Valentin, Paris (2015); Carl Kostyál, London (2014); Perry Rubenstein, Los Angeles (2014); and Edouard Malingue Gallery, Hong Kong (2013). Longo holds a BFA from Carnegie Mellon University. spencerlongo.us
Erick Medel (b. 1992, Puebla City, Mexico) lives and works in Los Angeles. His interdisciplinary practice combines sculpture and textiles with consumer objects and iconography to highlight the complexities and contradictions associated with definitions of Americanness. His experience as a teenage immigrant growing up in the United States has influenced his practice and observations on identity and otherness. Medel's work has been exhibited at NADA House w/ Housing Gallery, Governors Island, New York (2019); Stellar Projects, New York (2019); Maryland Institute College of Art, Baltimore (2019); and Camayuhs, Atlanta (2018), among others. He holds an MFA from the Rhode Island School of Design. erickmedel.com
Natani Notah (b.1992, San Bernadino, California) is an interdisciplinary artist and educator based in the San Francisco Bay Area. She is an enrolled member of the Navajo Nation (Diné) on her father's side and part Lakota and Cherokee on her mother's. Her work has been exhibited at the Holland Project, Reno (2019); Edwin W. Zoller Gallery, Penn State University, University Park (2019); Mana Contemporary, Chicago (2019); Stanford Art Gallery, California (2018); SOMArts Cultural Center, San Francisco (2018); and Root Division, San Francisco (2018). Notah has received awards from the San Francisco Foundation, Art Matters, and the International Sculpture Center. She has been published in As/Us, Yellow Medicine Review: A Journal of Indigenous Literature, Art & Thought, Sculpture Magazine, Tripwire, and the second edition of Colonize This! Young Women of Color on Today's Feminism. She has had artist residencies at the Vermont Studio Center and Grounds for Sculpture, she is a 2019–20 affiliate artist the Headlands Center for the Arts, and she will participate in the Djerassi Resident Artists Program in 2020. Notah holds a BFA with a minor in feminist, gender, and sexuality studies from Cornell University and an MFA in art practice from Stanford University. nataninotah.com
Louise Rosendal (b. 1985, Copenhagen, Denmark) is an artist and designer based in Copenhagen, Denmark. Recent solo and group exhibitions include My Mom Was a Computer, du.al, Svendborg, Denmark (2017); Ang3l_, Den nordiske ambassade, Copenhagen (2017); CPH with<3, Galerie des Terreaux, Lyon, France (2016); Window, Gold Cube Gallery, Berlin (2016; and Window, Tranen, Hellerup, Denmark (2015). She holds an MFA from the Royal Danish Academy of Fine Art and a BA from the Fashion Design Academy in Denmark. louiserosendal.com
Tailgate Projects is led by Kale Roberts and dedicated to assembling a radically inclusive community of artists blending performance, technology, sound, sculpture, and storytelling. Roberts aspires to catalyze engagement and change, and lives an art-as-life practice. Their identity as a visible femme-masculine genderqueer artist-jock facilitates this lifestyle. It is exchanged with their daily surroundings, wherein they make neighborhoods into story-sharing playgrounds while driving around in a glitter-rainbow-clad, teeth-grinding 'n' grinning, flag-bearing truck. This becomes a site for engagement where new partnerships can emerge. cargocollective.com/KaleBRoberts
A limited edition car decal by Spencer Longo is available for purchase both online and onsite for $10. http://www.gas.gallery/editions
A zine publication featuring a conversation between exhibiting artists Erick Medel and Kale Roberts (Tailgate Projects) and excerpts from Nikita Gale's LOW MAINTENANCE: i only believe in horsepower now (2016) is available for free onsite and online at http://www.gas.gallery/publications
UPDATE [March 16, 2020]: All Gas pop-ups are postponed or cancelled due to precautionary measures against the spread of COVID-19.
Open Hours at O'Project Space
Saturdays, 12-5pm (February 22, February 29, March 7, and Friday March 20 for the closing)
2618 Pasadena Ave
Los Angeles, CA 90031
https://www.oprojectspacela.com/
February 14-16, 2020
Opening Weekend
SPRING/BREAK Art Show
http://www.springbreakartshow.com/
SPRING/BREAK Art Show LA will feature 40+ curated exhibitions of local emerging and established artists, non-profit organizations, independent curators, artist collectives and galleries.
March 14 and March 15, 2020
Other Places Art Fair (OPAF)
Battery Leary-Merriam / Angels Gate Cultural Center
3601 S Gaffey St
San Pedro, CA 90731
https://opaf.info/
Fluid in definition, bonded by an intention to operate in other places outside the traditional art gallery systems, OPaf (Other Places art fair) features participants presenting site-specific booths encapsulating their projects and programming. Representing the growing movement of hard to define art project spaces, OPaf provides a custom art fair structure designed specifically for these unconventional projects.
Friday March 27
Now Instant Image Hall
Film Screening
5319 York Blvd
Los Angeles, CA 90042
https://now-instant.la/
April 3-5, 2020
LA Art Book Fair
The Geffen Contemporary at MOCA
152 N Central Ave
Los Angeles, CA 90012
https://printedmatterartbookfairs.org/
Free and open to the public, the LAABF is among the leading international gatherings for the arts publishing community, providing a platform for artists and publishers to connect with audiences and circulate their work in a dynamic environment.
PRESS
Editors "A deep dive into car culture & its collisions with notions of identity in the Custom group show at Los Angeles' Gas gallery" in AQNB June 29, 2020
Editors "Custom / Group Exhibition / Spring/Break Art Show Los Angeles" in VernissageTV February 27, 2020