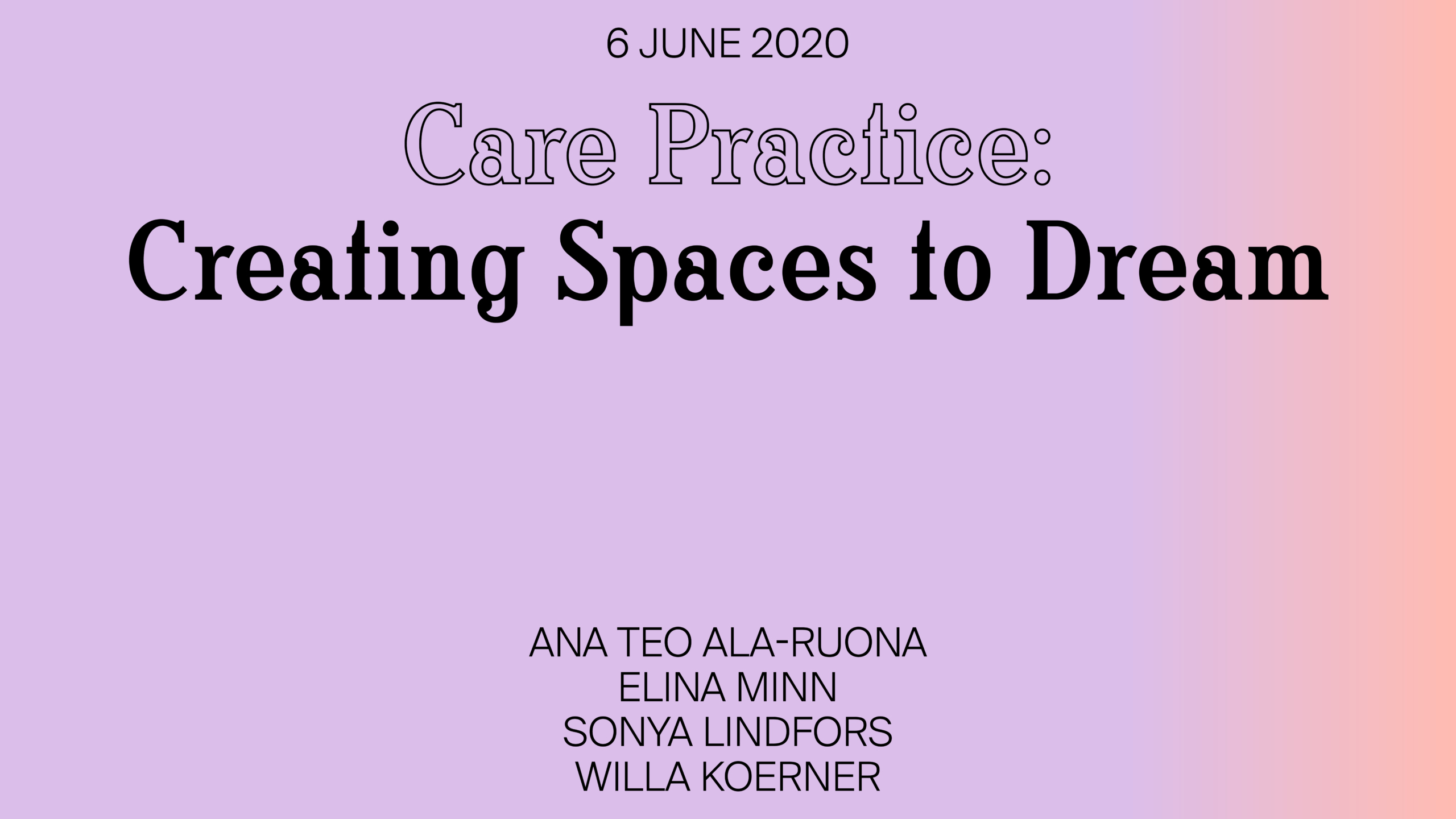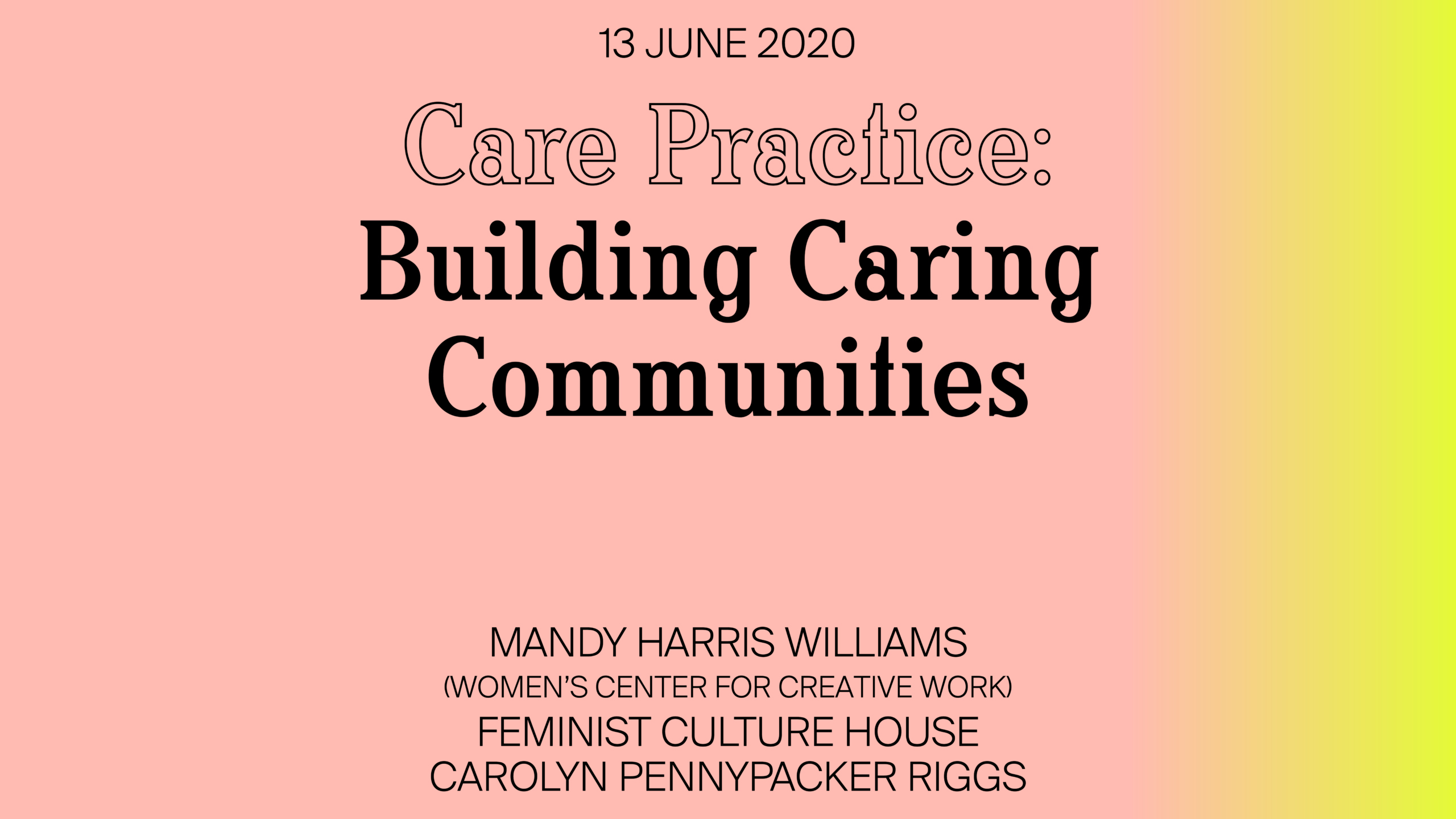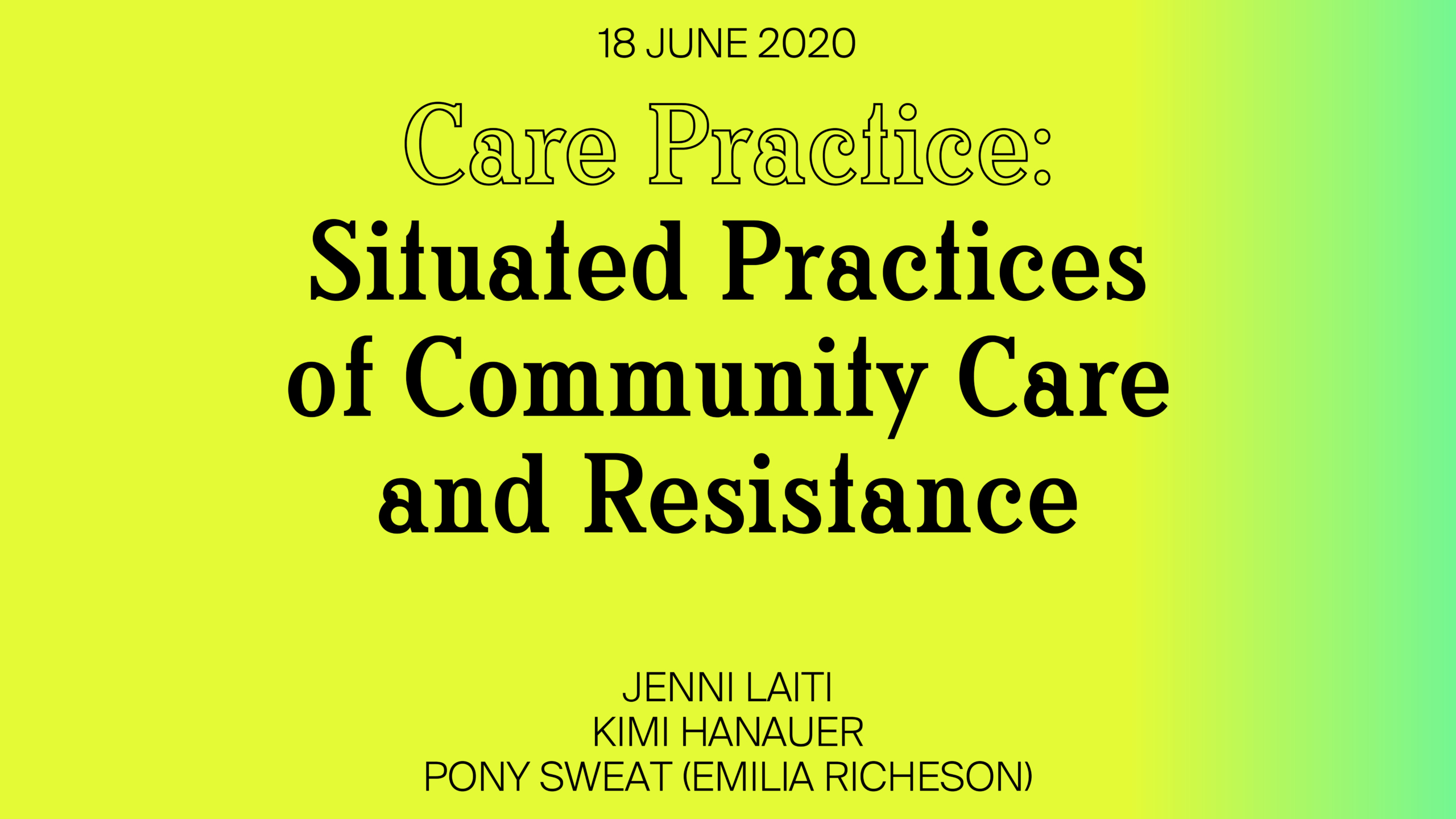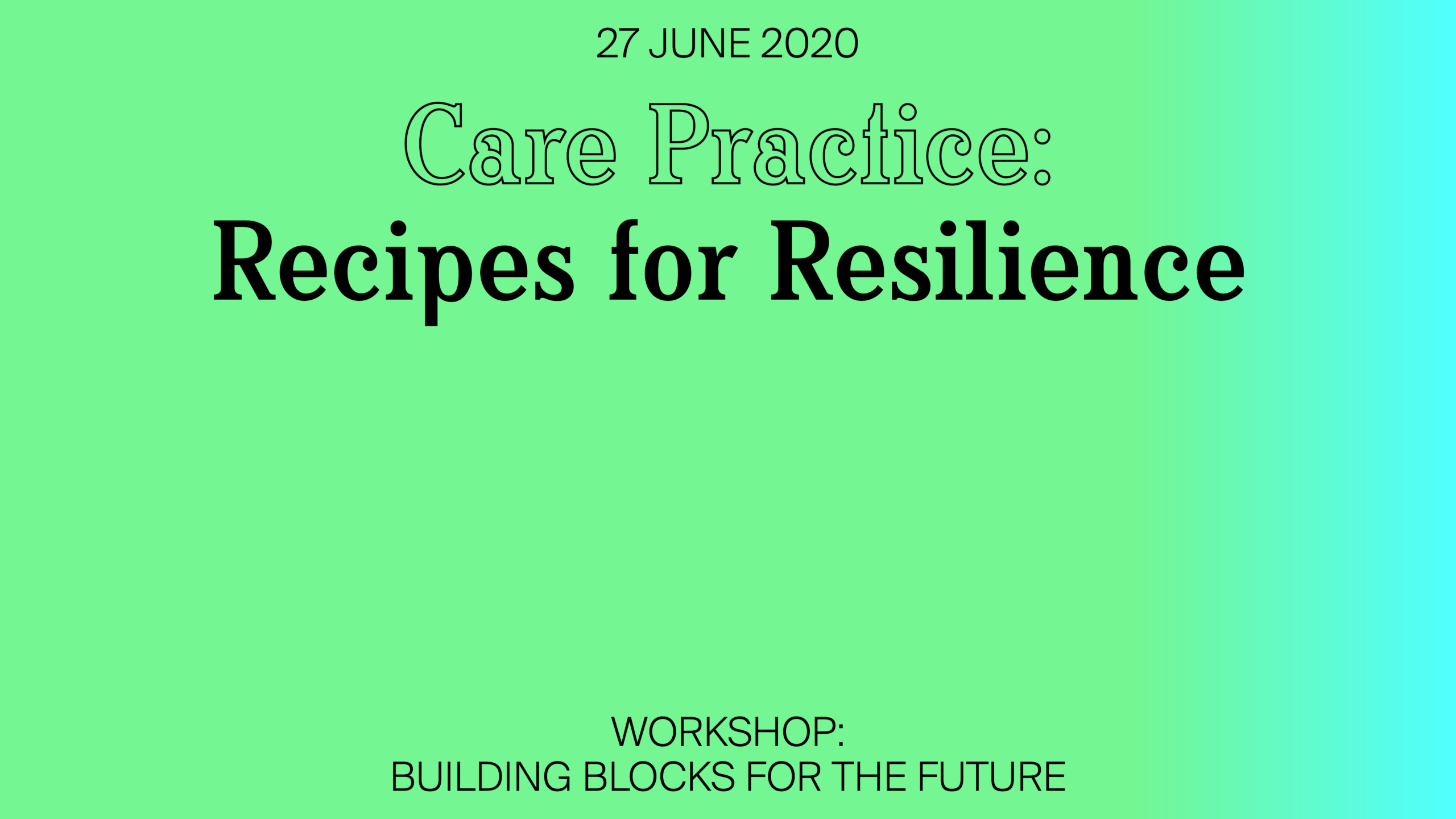 Care Practice: Recipes for Resilience
VENUE Gas
LOCATION Online
DATES Jun 01 - Jun 30, 2020
URL gas.gallery
Artists and Presenters:
Sonya Lindfors, Willa Koerner (Strange Foundation), Ana Teo Ala-Ruona, Elina Minn, Mandy Harris Williams (Women's Center for Creative Work), Feminist Culture House, Carolyn Pennypacker Riggs, Jenni Laiti, Kimi Hanauer, and Pony Sweat (Emilia Richeson)
Description:
The online public program Care Practice: Recipes for Resilience pairs visionary creative practitioners from the United States, Finland and Sápmi to imagine future forms of care and resilience in relation to their communities and the COVID-19 crisis.
Organized weekly throughout June 2020, the four Care Practice sessions will consist of multi-sensory, participatory exercises, followed by intimate conversation-led sessions moderated by the guest presenters. The objective of the program is to rehearse care, to cultivate sustainable art structures and more equitable futures. Given the monumental impact of COVID-19 on every aspect of contemporary life, the hope is that this program will inspire participants to practice new forms of creative community. All of the programs are free, two hours in length and conducted in English.
The project is organized by the LA-based Gas Gallery and coordinated by curators Ceci Moss (Los Angeles) and Ki Nurmenniemi (Helsinki). It is supported by the Finnish Cultural and Academic Institutes' Together Alone initiative.
The participants and organizers want to express our solidarity with the protests in the United States, and the movement for black lives. This event is free, but in lieu of a ticket, we request that you make a donation to community bail out funds, mutual aid organizations and racial justice organizers across the United States.
SCHEDULE
Saturday, June 6: Creating Spaces to Dream
Time: 10am PST / 1pm EST / 8pm EEST
Duration: 2 hrs
Warm-Up: Embodied writing exercises led by Ana Teo Ala-Ruona and Elina Minn
Discussion: Sonya Lindfors and Willa Koerner
Free
Sonya Lindfors, Choreographer, Artistic Director
A critically acclaimed Helsinki–based choreographer and the powerhouse artistic director of the ground-breaking UrbanApa artistic platform. Sonya divides her time between her own artistic work and art director's position. In all her activities she pursues subversive ways of working that aim at challenging existing power structures. Currently, she is developing decolonial dreaming practices and educating on feminist leadership.
Willa Koerner is a future-focused strategist, writer, editor, and artist designing opportunities and resources to catalyze creative brilliance. She is the co-founder of the Strange Foundation, an internet-and-nature-infused residency and retreat space in New York's Catskill Mountains whose ultimate goal is to help forge a stranger, more imaginatively regenerative future.
Ana Teo Ala-Ruona, performance and visual artist, educator
A Helsinki–based artist and educator interested in generating new forms of collectivity, futurities and understanding of interdependencies, as well as space for unheard, marginalized or non-normative, queer and trans narratives and experiences. Their work focuses on queer speculative fiction in forms of speech performances, texts, sound installations, video, community organizing and writing workshops.
Elina Minn, dramaturg, writer
A writer and dramaturg working in the fields of contemporary art and performance. Elina is committed to nurturing cultures of experimentation, play and rest. They are fascinated by the dancing body, the spiritual body, the animal body and humans' shared ancestry with other cellular life forms. Elina's background is in animation, illustration and graphic design – drawing is their first language.
Saturday, June 13: Building Caring Communities
Time: 10am PST / 1pm EST / 8pm EEST
Duration: 2 hrs
Warm Up: Community Chorus, a resistance-themed amatuer chorus, led by Carolyn Pennypacker Riggs
Discussion: Mandy Harris Williams (Women's Center for Creative Work) and Feminist Culture House
Free
Women's Center for Creative Work / Mandy Harris Williams
Mandy Harris Williams is the Programming Director of the Women's Center for Creative Work, an organization that cultivates LA's feminist creative communities and practices. She is a theorist, multimedia conceptual artist, writer, educator, radio host and internet/community academic. Mandy's work seeks to get everybody the love that they deserve. She focuses on desirability privilege as a real and mythological market and political force. She graduated from Harvard, having studied the History of the African Diaspora, as well as the mass incarceration crisis, and other contemporary black issues. She received her MA in Urban Education and worked as a classroom teacher for 7 years in low income communities.
Feminist Culture House, Helsinki
Feminist Culture House (FCH) is an intersectional feminist organisation based in Helsinki, Finland. They work with and for underrepresented artists and arts workers, and currently focus on supporting those who are trans, non-binary, and gender non-conforming; Black and POC; disabled; and forced to encounter the Finnish immigration office.
They want to see an art field that is more representative of—and accountable to—its constituents, and that functions in ways that are safer, fairer, and more comfortable for all kinds of bodies, identities, and agencies. The co-founders of Feminist Culture House are Katie Lenanton, Neicia Marsh, Orlan Ohtonen, and Selina Väliheikki.
Community Chorus / Carolyn Pennypacker Riggs
Carolyn Pennypacker Riggs is a Los Angeles-based artist creating experimental, immersive public ritual with sound, sculpture, video, costume, and collective performance. Her work uses ancient archetypes, canonized heroic narratives, and mythological tropes to explore structures of power and the actions one can take – both as individuals and collectively – to combat psychic and systemic oppression. She is the creator/composer of the site-specific choral/movement ensemble, Song of Eurydice; teaches Songbuilding workshops to adults and tweens; makes up one half of the duo, Bouquet; and – with conductor Tany Ling – leads Community Chorus, a resistance-themed, commitment-free chorus that performs at justice-themed events.
Thursday, June 18: Situated Practices of Community Care and Resistance
Time: 10am PST / 1pm EST / 8pm EEST
Duration: 2 hrs
Warm-Up: Pony Sweat, a radical dance aerobics class
Discussion: Jenni Laiti and Kimi Hanauer
Free
Note: Participants are asked to read and respond to Deepa Iyer's Mapping Our Roles in Social Change Ecosystems in advance of Thursday's session.
Jenni Laiti, a Sámi artivist
Jenni Laiti was born in Inari, Finnish side of Sápmi and lives in Jokkmokk, Swedish side of Sápmi. Laiti works on the interface between art and activism and has a degree in traditional Sámi handicraft, Duodji. Her work is a mixture of performative direct action, culture jamming and installation. It deals with decolonialism, Indigenous rights and climate justice. In recent years, Jenni has been developing situated methods for land-based art practices that, on one hand, aim to strengthen and empower Sámi communities and on the other, share important knowledge and resilience skills stemming from these communities and their traditions. Jenni is asking what it takes to 'become human again' – eallit olmmožin – to acknowledge our interconnectedness and to live accordingly. Her aim is to develop solutions to the ecological crises that are based on communality and situated practices.
Kimi Hanauer
Kimi Hanauer is an artist, cultural organizer, and writer based in Los Angeles. Kimi is the founding editor of Press Press, a publishing studio that aims to shift and deepen the understanding of voices, identities, and narratives that have been suppressed or misrepresented by the mainstream. In this role, Kimi has edited multiple publications, including Sentiments, If I Ruled the World, and Manifesto for Tender Collaborative Work. Kimi's practice ranges in forms, including events, publications, and installations, and aims to surface the intersections of nationality, citizenship, race, migration, and power.
Emilia Richeson
Founder of Pony Sweat, a fiercely non-competitive, radical dance aerobics class.
https://ponysweataerobics.com/
Saturday June 27: Recipes for Resilience
Time: 10am PST / 1pm EST / 8pm EEST
Duration: 2 hrs
Free
Led by participants, this final workshop will create building blocks for the future.
About Ki Nurmenniemi
Ki Nurmenniemi (MA, MSSc) Curator, Writer, ½ of the artist duo Myriagon, Helsinki
Ki is an experienced curator of contemporary art with a background in the Arts as well as in Social Sciences. Their long-term research focus is on sustainability (ecological and social) in the Arts and beyond. They have been developing and running international and multidisciplinary cooperative projects and have substantial experience in community-building in the cultural sector. Ki is also part of the artistic duo Myriagon (a collaboration with Finnish artist Tuomas A. Laitinen) and an active art writer.
PRESS
Elisa Wouk Almino, "How Do We "Rehearse Care"? Artists, Activists, and Writers Model New Approaches" in Hyperallergic June 3, 2020