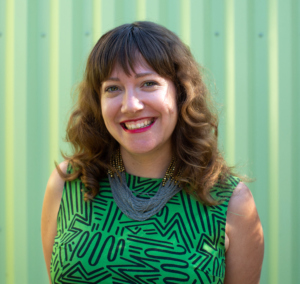 I am a curator, writer and educator based in Los Angeles (Tongva, Chumash and Kizh land). I firmly believe in art's ability to create shared experiences that encourage greater empathy, generate human connection, advance intellectual exchange, and clear space for experimentation. Throughout all of my work, I aim to realize a more just and equitable world.
I am the founder and director of Gas, a mobile, autonomous, experimental and networked platform for contemporary art located in a truck gallery and online. The non-profit space has thus far shown work by 89 artists and received widespread local, national and international acclaim. Los Angeles Magazine named Gas "one of LA's most interesting art galleries" and Art in America calls the space "radical" and "innovative."
I have a MA and PhD in Comparative Literature from New York University, and a BA in History and Sociology from U.C. Berkeley. My academic research addresses contemporary internet-based art practice and network culture. My first book Expanded Internet Art: Twenty-First Century Artistic Practice and the Informational Milieu is published through the Bloomsbury series International Texts in Critical Media Aesthetics. I am currently a Lecturer in Curatorial Practice at California College of the Arts (CCA) and I have held teaching positions at the University of Southern California, Scripps College, the San Francisco Art Institute and New York University. My writing has appeared in Rhizome, Art in America, ArtAsiaPacific, Artforum, The Wire, CURA, New Media & Society and various art catalogs.
Since 2005, I have worked in non-profit arts organizations in various curatorial, editorial and fundraising capacities. Previously, I was the Assistant Curator of Visual Arts at Yerba Buena Center for the Arts, the Senior Editor of the art and technology non-profit arts organization Rhizome, and Special Projects Coordinator at the New Museum of Contemporary Art. My wide-ranging curatorial projects encompass numerous exhibitions (both solo and group shows), public art commissions, public programs and publications. Highlights include the touring group exhibit Alien She co-curated with Astria Suparak on the influence of the punk feminist movement Riot Grrrl, the group show Office Space presenting works that subverted office design, the triennial Bay Area Now, a large scale public art installation with Kota Ezawa, and several solo exhibitions involving new commissions for artists such as Samara Golden, Shana Moulton, Metahaven, Nate Boyce, Brenna Murphy and Jacqueline Kiyomi Gork. My curatorial projects have received praise from The New York Times, Artforum, The Huffington Post, LA Weekly, Flash Art, Fast Company, The Wire, and Creator's Project.
As a volunteer, I'm a Mentor at NEW INC, the New Museum's incubator for people working at the intersection of art, design, and technology. I am a 2022 ACTIVATE delegate in Arts for LA's community organizing and arts advocacy lab, which focuses on four policy areas in the Los Angeles region: affordable spaces for artists, creative career pathways, equitable arts education, and equitable arts funding. I am also the Southern California Chapter Co-Chair of ArtTable, the foremost professional organization dedicated to advancing the leadership of women in the visual arts. For many years, I've also participated in various local, statewide and national campaigns to help drive progressive policies and candidates forward within the Democratic Party.
CONTACT: cecimoss(at)gmail.com
Pronouns: She/Her
Name Pronunciation: See-See
Portrait by Jessica Fee