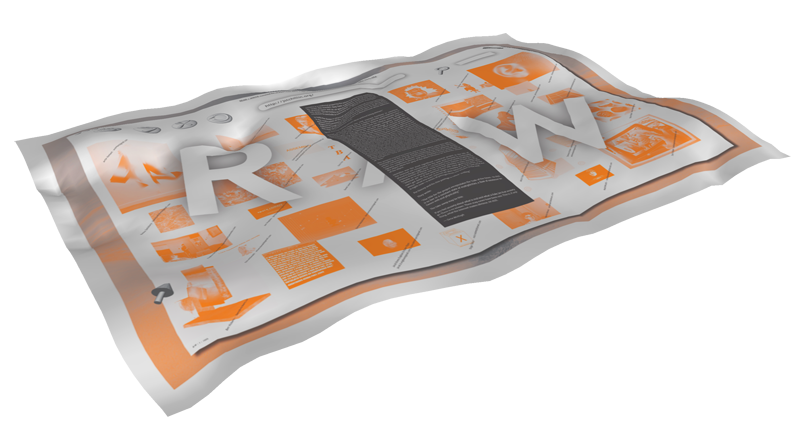 Internet Surfing Prime: An Interview with READ/WRITE Curators Caitlin Denny and Parker Ito
PUBLICATION Rhizome/ Exhibition Catalog for "Read/Write" at 319 Scholes, Brooklyn, NY
DATE March 2011
URL rhizome.org
PDF cecimoss.com
Excerpt/ The experience of running an online platform for art, like Jstchillin, has its own set of challenges and advantages, in terms of the flexibility of display, a potential for a large, diverse audience, serendipitous reception and circulation. I'm wondering if you can talk more about your experience with Jstchillin, and how this may have lead to some of the key themes in READ/WRITE.
Caitlin Denny: JstChillin started with ambitious goals, and now we're seeing it all come together even better than we had imagined. It's been somewhat surreal to reflect on the process, people and conditions of the project. It had originally been a Rhizome proposal that got rejected called "Cosmos" that included a small group of friends, some of whom are a part of JstChillin. I wanted to keep going with the project even after we got rejected, and it seemed Parker was the only one on the same page as me. We developed our ideas and mission for the project very loosely when we made "An Essay About Chillin'", a screen capture movie of a staged AIM conversation. After that, we started our now year and a half long exhibition on our site called "Serial Chillers In Paradise" which is what we have become most well known for. We were fans of surf clubs and the like, but wanted to do something more immersive that would almost abolish the body yet make one hyper aware of their own physicality. We chose to let the artists take over our site every two weeks instead of using a blog-like style to highlight work. We weren't interested in highlighting just any art we liked at the moment, we were interested in commissioning new works made especially for our site. This, I think, stands us apart from a lot of other online exhibition sites. We also wanted to create a seemingly naive and simple charisma to our project that over time would unfold the complexities of our digital condition. I think we've been successful so far. Reading Brian Droitcour's essay on us, first published on Rhizome's blog, made me realize that we had accomplished something, whether people liked it or not. I was somewhat blind, and probably still am, to who our audience is. I imagine it is mainly people involved in an online art community of sorts, but I frequently get hints and clues to other worlds of people who see the site. I like this ambiguity, that's what the internet is to me. I don't want to know facts or numbers, I want to keep the internet wild and mysterious… but it seems now we are getting closer and closer to the limits of the internet. I've felt these changes in my own surfing and online time – it is harder to discover the vast net terrain more than ever. Not that there isn't anything to discover, but the way I surf the net is so much different, and so much more boring, than I ever used to. I am definitely more in the Tim Berners-Lee camp than the Tim O'Reilly camp – the web was made as a read/write vehicle, a vast anonymous space for interaction and discovery. With Web 2.0, the enchantment of the net is slowly disintegrating. We need the Jim Henson of the internet to step up and tell us what's up.
Parker Ito: JstChillin is always framed as a curatorial project. I feel kind of weird saying that at times. It's more like a performance of curating. For me, it's just about hanging out online and looking at what people are doing and it's really hard to know who's seeing what, but at least with our site people can sorta respond and be like "I really like so and so's project." A lot of the Surf Club era artists used, and still use Delicious to spread stuff they're excited about, or get out the word about a new project. JstChillin in my mind is an extension of that. It is a crazy ambitious project, a year and half exhibition, that is kinda insane now that I think about. Reflecting on the project now, I don't really know what to say, it's a really overwhelming feeling. The themes for the show occurred very naturally. This show will never live up to the beauty of my daily interaction with people online, it's just an opening paragraph in a really really long essay. There's a lot of power to be harnessed.
— "Internet Surfing Prime: An Interview with READ/WRITE Curators Caitlin Denny and Parker Ito" Exhibit ion catalog for READ/WRITE at 319 Scholes, Brooklyn, NY March 2011