Critical Transformations: A Forum on New Futures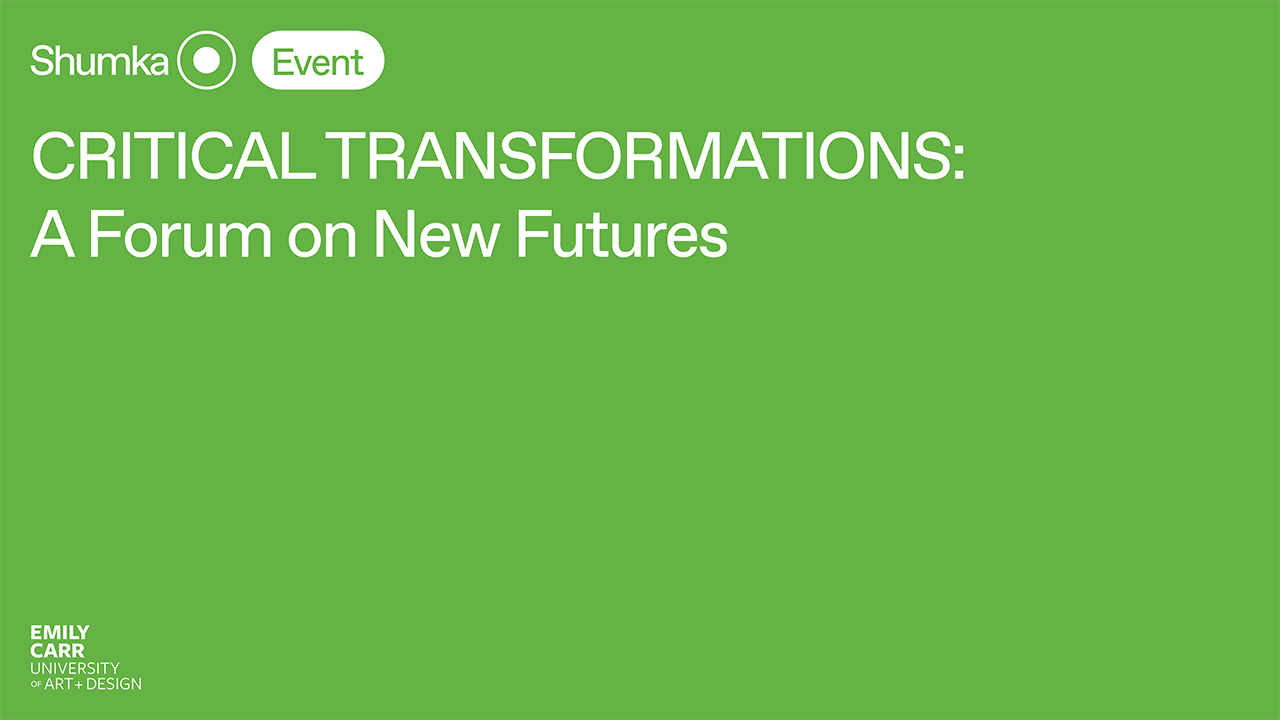 WATCH VIDEO DOCUMENTATION
Description:
We are living through unprecedented times that present the challenges of the pandemic, an economic recession, and rising fascism, alongside the opportunities of social justice, creative problem-solving, and bold thinking.
Curated by Ceci Moss, this monthly series of online roundtable conversations invites visionary artists, curators, activists, designers, architects, and arts organizers around the globe to discuss their work in creating groundbreaking new models for the arts sector from September to December 2020.
Schedule:
Design and Social Justice | September 24 at 4PM PST
How do you build greater equity within a community using design practices? How can design principles be used to empower and center marginalized people? This roundtable invites a group of designers and researchers to discuss their innovative work at the intersection of design and social justice.
Panelists:
Nura Ali, Artist and Social Activist
Jacquie Shaw, Designer
moderated by Jean Chisholm, Designer and Sessional Faculty at Emily Carr
Do it Yourself | October 29 at 4PM PST
This event assembles a group of directors of West Coast independent art spaces to reflect on their experience founding and/or managing small, experimental, community-building and utopian venues for contemporary art. What alternative models do these venues provide? How is their approach indicative of the future of arts organizing?
Panelists:
Fritz Haeg, Salmon Creek Farm
Morgan Elder and Allison Littrell, Co-Directors, Murmurs
noé olivas, Co-Founder, Crenshaw Dairy Mart
Moderated by Ceci Moss
Future Art Ecosystems | November 19 at 4:30 PM PST
How can we radically rethink and realize different structures for the production, distribution and reception of contemporary art? Given the current interwoven status of art, technology, communication, and activism, can there be a truly revolutionary path for the arts sector? This conversation brings together a group of leading-edge curators and artists who have used direct, actionable means to achieve these endeavours in their work.
Panelists:
Anaïs Duplan, Founder, Center for Afrofuturist Studies and Program Manager, Recess
Willa Koerner, Director, The Strange Foundation,and Former Content Director, The Creative Independent
Jen Delos Reyes, Founder & Director, Open Engagement
Moderated by Ceci Moss
Institutional Reformatting | December 3 at 4PM PST
Whether developing new and unexpected exhibition platforms such as Other Sights or collective research and development teams as in NAVEL's Assemblies program, these artists, teachers, and curators have developed new structures for critical art production, in a way that prioritizes interdependence, non-hierarchical systems and information-sharing. This discussion will consider the many ways to reimagine "institutions" from the ground up.
Panelists:
Michael Holt, Co-Director, NAVEL and Alice Yuan Zhang, Co-Organizer, Virtual Care Lab
Caroline Woolard, Author of Making and Being and Artist
Vanessa Kwan, Program Director, grunt, Curator/Producer, Other Sights and Artist
Moderated by Ceci Moss
About the Shumka Centre for Creative Entrepreneurship at Emily Carr University of Art + Design
The Shumka Centre creates programs and partnerships that help artists and designers realize their ideas in the world. It is a place where creative practitioners can find the community, knowledge, and resources they need to launch, fund, and organize projects across the spectrum of contemporary art and design activities – products, projects, curatorial initiatives, platforms, companies, organizations, and more.